What features are available?
There are several different types of slot games available, each with unique features such as pot bursts, wild multipliers, and different kinds of jackpots.
---
Features

Auto spin
Auto spin lets you spin at your current virtual bet without having to tap the Spin button each time. To turn this feature on, hold down the Spin button for a few seconds and then let go. The button should then say "Auto" instead of "Spin".
To stop auto spin, tap the Auto button. To spin normally without using auto spin, simply tap the Spin button.
Reel stop
Stop the reels more quickly than normal by tapping the Spin button while the reels are still spinning . If you get lucky, you might hit a winning spin! You can also use this to speed up the pace of your spins.
Virtual payout guide
To view the virtual payout guide in-game, tap the Menu button in the upper-left corner and select How to Play .
---
Lines
Some slot machines feature twenty five (25) paylines while others feature nine (9) paylines.
The Lines button and the third page of the virtual payout guide will indicate the number of lines available for a given slot machine.
While the number of paylines are locked, you can still change the virtual bet size by tapping the '+' and '-' buttons on the sides of the total virtual bet indicator, which shows the rounded virtual bet amount. To virtually bet max, you can tap '+' until you reach the max virtual bet available, or you can also hold the '+' button for 3 seconds to switch to max virtual bet immediately.
The possible winning lines for twenty five (25) line slot machines and nine (9) line slot machines are shown below.
Please note: The number and orientation of paylines may vary depending on the slot machine you're playing. Check the slot's virtual payout guide for details .
Twenty Five (25) Line Slots

Three Rows
Four Rows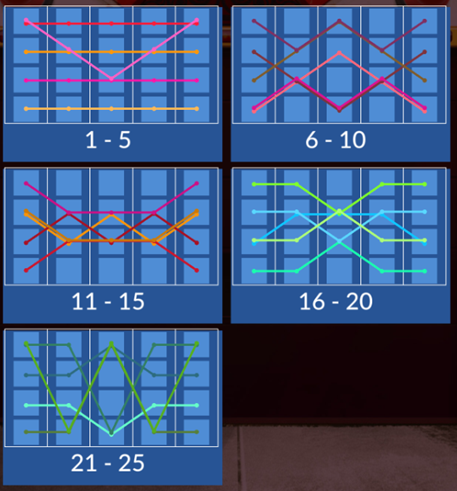 Nine (9) Line Slots

Three Rows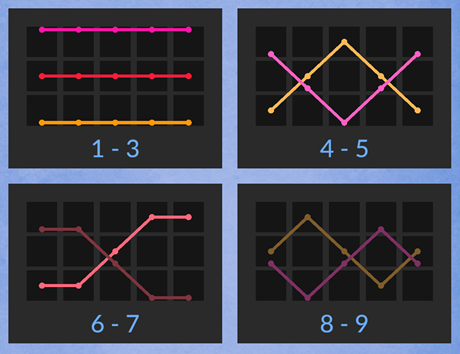 Diamond Slots